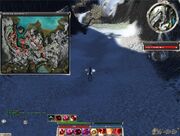 Easy and quick way to farm feathers in normal mode in Jaya Bluffs.
Attributes and Skills
Edit
<pvxbig> [build prof=A/E sha=12+1+3 fir=12 air=3][Shroud of Distress][Shadow Form][Way of Perfection][Dark Escape][Glyph of Lesser Energy][Bed of Coals][Lava Font][Whirlwind][/build] </pvxbig>
Equipment
Edit
Maintain all enchantments, aggro one group of Sensali's at a time. Wait for them all to ball up around you, Darkfeathers(necromancers) take a few seconds longer than the assassins. Then cast skills 5-6-7-8. Sensail may scatter but dont worry they will die from burning. Pick up drops, Repeat.
Counters
Edit
Over aggro
No Shadow Form
This run yields around 80 feathers per run, each run takes approximately 10 minutes. Salvage Feathered Crests for 3-5 feathers