This build has been archived as of 02:05, December 22, 2009 (UTC), for the following reason:

This build had been designed for the following use:

This build was in the category great before being archived.
Uses Raven Blessing to make an efficent Stygian farm for any class, works in HM too.
Attributes and Skills
<pvxbig> [build prof=any/r Wild=12][Nature's Renewal][Quickening Zephyr][Raven Blessing][Storm Chaser][Natural Stride][Optional][Optional][Optional][/build] </pvxbig>
Template Codes:
Warrior OQIRgZi7Y7Aq844XDAAAAAA
Ranger OgARgZi7Y7Aq844XDAAAAAA
Monk OwIRgZi7Y7Aq844XDAAAAAA
Necromancer OAJRgZi7Y7Aq844XDAAAAAA
Mesmer OQJRgZi7Y7Aq844XDAAAAAA
Elementalist OgJRgZi7Y7Aq844XDAAAAAA
Assassin OwJRgZi7Y7Aq844XDAAAAAA
Ritualist OAKRgZi7Y7Aq844XDAAAAAA
Dervish OgKRgZi7Y7Aq844XDAAAAAA
Paragon OQKRgZi7Y7Aq844XDAAAAAA
Usage
Activate your Lightbringer title for bonus damage and enter Stygian Veil.
Use Drunken Master to get to the NPCs faster and take the quest and the hunt.
Move off to the northeast and wait for the Stygian Hungers to appear stop moving in front of the NPCs.
Cast NR just outside of agro range of the Hungers. (See image for reference)
Run between the two npcs, and stop in front of the adept, and nudge back slightly if they are hitting you at all. (See image for reference)
Once they all are stuck, plant Quickening Zephyr and using Raven Blessing, then spam Swoop until they're all dead. Don't worry about the damage spike from Grenths, it can't kill you.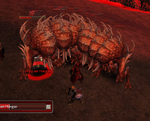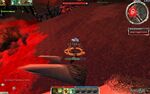 Counters
Agroing badly results in death if you're not quick to run away.
Notes
With extremely low Norn and Lightbringer, it may not be possible to kill them in one ravens. It has been tested and confirmed to work with as low as r2 Norn and r4 LB, which makes each swoop do 82 damage.
Variants
Any 33% IMS may replace Drunken Master.
See also
External links
Community content is available under
CC-BY-NC-SA 2.5
unless otherwise noted.