This build has been archived as of 11:40, March 28, 2010 (UTC) (EST), for the following reason:

Not capable of farming anything worthwile

This build had been designed for the following use:

This build was in the category good before being archived.
This build allows a player to farm large numbers of Minotaur in the Elona Reach mission, Hulking Stone Elemental outside of Sardelac Sanitarium in Hard Mode, Trolls and Kirin on the Pongmei Valley.
Attributes and Skills
<pvxbig> [build prof=eleme/mesme firema=12+1+3 waterm=11+1 energy=5+1 inspir=4][Arcane Echo][Mist Form][Channeling][Meteor Shower][Bed of Coals][Frozen Burst][Teinai's Heat][Lava Font][/build] </pvxbig>
Equipment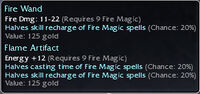 Usage
Before approaching selected foes, cast
Arcane Echo
.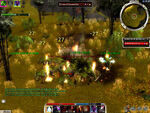 Counters
Variants
See also
Notes
Farmable Places
Community content is available under
CC-BY-NC-SA 2.5
unless otherwise noted.