This build has been archived as of 13:55, February 16, 2010 (UTC), for the following reason:

This build had been designed for the following use:

This build was in the category great before being archived.
This build uses heroes to quickly and easily farm norn reputation points.
You
<pvxbig> [build prof=any/n][bip@12][ebon escape][optional][optional][optional][optional][optional][optional][/build] </pvxbig>
Any speed boost if accessible
Hero 1
<pvxbig> [build prof=e/p air=12+1+1 ene=9+1 command=9][fall back][thunderclap][air attunement][lightning orb][lightning strike][gole][blinding flash][res sig][/build] </pvxbig>
Hero 2
<pvxbig> [build prof=n/p cur=12+1+1 sou=9+1 command=9][fall back][spiteful spirit][barbs][enfeeble][rigor mortis][rip enchantment][signet of lost souls][res sig][/build] </pvxbig>
Hero 3
<pvxbig> [build prof=w/any axe=12+1+1 tac=10+1 str=8+1][charge][flail][dismember][axe rake][axe twist][agonizing chop][watch yourself][res sig][/build] </pvxbig>
Usage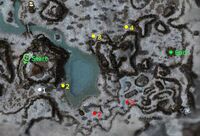 Obtain the quest The Path to Revelations.
Go to Olafstead and switch to Hard Mode.
Add at least one healer henchmen and 2-3 damage henchmen.
Flag your heroes in your "u" map periodically along the path to where the quest is telling you to go. Do not follow your heroes.
Micromanage your heroes' running skills to make the party move faster.
Take the blessing from Oglana Beartamer and kill yourself with BiP so that you can see what's happening. Use your speed boost and Ebon Escape to get to the blessing faster.
Let the heroes kill the bosses.
Abandon quest.
Repeat.
Variants
Any hero builds that work can be used.
Notes
There are 2 paths that can be taken to get to the bosses. The first one is the faster one although the less safe one. It involves flagging your heroes along the southern part of the zone and coming from the south. The other involves moving along the left side of the frozen lake and approaching from the northwest. The first can have Frozen Elementals spawn in the path and can kill your heroes or at least hinder their movement. The second one is safer but takes longer.
On both paths be careful because Vaettirs can spawn and block 1, 2 or even 3 of your heroes making it hard to kill all the bosses.
Community content is available under
CC-BY-NC-SA 2.5
unless otherwise noted.