The PvXwiki community finds this to be an excellent build.
If you disagree with this rating, please discuss it on the build's talk page.
This build has been designed for the following use:
This build is designed to farm Destroyer Cores during Glint's Challenge by quickly destroying the first wave of attackers with Vengeful Was Khanhei.
Attributes and Skills
<pvxbig> [build prof=W/Rt Strength=10+1+2 Tactics=8+1 Restora=12][Vengeful was Khanhei][Weapon of Warding][Dolyak Signet]["I Will Avenge You"][Endure Pain][Protector's Defense][Bonetti's Defense][Signet of Stamina][/build] </pvxbig>
Equipment
Sentinel's insignias on all armor pieces. Highest possible vigor rune, and 2 more runes of attunement.
A +5/+30hp energy Axe/Sword, with an +30hp Shield with +10 Armor vs Piercing Damage (Such as Geoffer's Bulwark)
Usage
Upon entering the mission, use Signet of Stamina. It will remain there until the end of the mission as long as you don't attack.
Position yourself between the north and east dwarves (see images on right).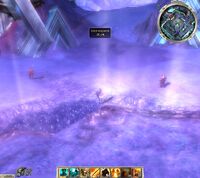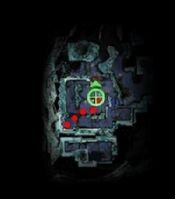 Variants
Only real change that could be made is Endure Pain, however this is a very handy back-up, especially if you are just learning the build.
Notes
A run takes about 4-5 minutes.
Even if you die, you will still get the drop(s) in the "Unclaimed Items" screen after you return back to the Central Transfer Chamber.
Destroyer Cores (the main drop from this solo farm) are used to trade 250 for Destroyer Gauntlets.
As well as Destroyer Cores, lots of dyes and weapons drop; occasionally gold weapons.
Counters
If you dont time your skills right, you wil propably die the first few times you try this build.
Video
Solo Destroyer Core Farming. This Warrior uses "Shields Up" instead of Protector's Defense.
Community content is available under
CC-BY-NC-SA 2.5
unless otherwise noted.