Fuck pugs, run kath alone without asking retards for help.--Digit0l

Qu33r 15:19, September 15, 2010 (UTC)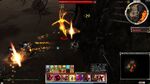 okay so it must work :< --Chieftain Alex 16:16, September 15, 2010 (UTC)
Bump
^ Me so impatient.--Digit0l

Qu33r 13:51, September 16, 2010 (UTC)
Hero
I found it much easier after bringing a hero with Balthazar's Spirit just for clearing the groups at level 3. May be an idea for beginners, and anyone you are running may bring it, meaning you lose no money. NeoBro 17:18, September 20, 2010 (UTC)
Times?
This build is pretty neat. Just wondering, how long is the run usually? 40 min? Demonic Sin Ex 05:53, October 6, 2010 (UTC)
Celerity
Do I need to pop a celerity at the start of every level?? If so that kinda sucks.Wynne 22:22, October 23, 2010 (UTC)Wynne
Getting pugs to the chest?
There a simple way to do it? Been running shrines with the party and having them wipe at each until we reach Illsundur. 66.230.112.99 16:38, November 1, 2010 (UTC)
Community content is available under
CC-BY-NC-SA 2.5
unless otherwise noted.