From monthly, ran in a triple war team instead of a B surge. Tyrael Strikes Back- 14:44, June 27, 2010 (UTC)
Was just about to post this, Enfeeble was mainbar--GWPirate 11:22, June 28, 2010 (UTC)
Also against Vent Rage he ran Cultists Fervor, no curses, opp and enfeeble mainbar and dark fury--GWPirate 16:05, June 28, 2010 (UTC)
This build is very nice :-)
I was thinking of a little modification in this build.
Why not running Victory is mine, instead OoB? Yeah, you lose hard res, but its an shout, and you only need 6 tactic for it to work good. (decrease soul reaping to 6, its not like something dies every second in Gvg)
Post your opinions, we havent seen this skill used in GW for a long time.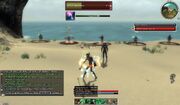 nerfed
you guys don't actually think this is still viable do you? barbed took a huge nerf, spamming barbed every spell sucks big ones, the whole intent was to spread degen faster than the monks could remove it, they effectively eliminated that now. Roflmaomgz 01:58, January 3, 2011 (UTC)
Community content is available under
CC-BY-NC-SA 2.5
unless otherwise noted.