This guide is designed to document an effective way of acquiring items needed for Gifts of the Traveler (guildwiki) from Nicholas the Traveler (guildwiki).
Previous farming methods can be found in the Archive.
Previous Items can be found in the Past Collections.
Please fill me in
From Pogahn Passage Kournan mobs can be found either in the Arkjok Ward, the Dejarin Estate or Gandara, the Moon Fortress.. Of these 3 areas, Arkjok Ward offers multiple nearby mobs of Kournans, without the aggravation of other enemy mobs, and an easy rezone.
Week of October 11 (3 Skree Wings per gift)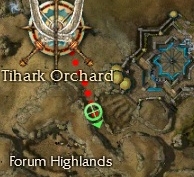 Just outside of Tihark Orchard is a group of Skree Trackers that are easy to farm with a Spirit Farmer. Just Rezone for more.
330hp Ritualist build Build:Rt/Mo 330hp Vengeful Farmer works just as good or even better, just avoid the groups with the healer.
Week of October 4 (2 Inscribed Shard per gift)
Just outside Gate of Torment in Nightfallen Jahai there is a group of 3 Graven Monoliths, which can be easily farmed in HM with Spirit Spammer.
Alternative path is to leave from Bone Palace into Joko's Domain and farm all graven Monoliths along the way to Nicholas. However it requires fighting additional mobs.
During LB and SS farm their spawn a big mob of Monoliths which can be farmed.
Another alternate place to farm is The Ruptured Heart from the west exit of the Mouth of Torment. Outside to the right you will find 6-8 Graven Monoliths. There is a nearby group or Margonites that usually gets pulled into the fight, but they are not a problem.
Community content is available under
CC-BY-NC-SA 2.5
unless otherwise noted.