m

Line 1:
Line 1:
 

Ru(i)n Darkrime with a ranger.

 

Ru(i)n Darkrime with a ranger.

 
+

{{Requires-Cons}}

−
 
 

== Attributes and Skills ==

 

== Attributes and Skills ==

 

<pvxbig>

 

<pvxbig>
---
Revision as of 12:29, 21 November 2010
Ru(i)n Darkrime with a ranger.
Attributes and Skills
<pvxbig> [build prof=R/A exp=12+3+1 sha=12][Shroud of Distress][Shadow Form][Dwarven Stability][Dark Escape][Unseen Fury][Throw Dirt][Whirling Defense][Death's Charge][/build] </pvxbig>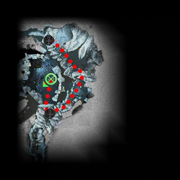 Equipment
Full Radiants/Attunements
+20 Energy staff of Enchanting
Zealous Scythe of Enchanting
Usage
Follow the path on maps.
Mantain SF, SoD and dwarfstab (with alcohol)
Level 1
Avoid Incubus by following the map.
Blow up the ice door with a keg(recast SF before picking up the keg).
Lure the first Havok-kin to a Dwarven Powder Keg Station and blow him up. Pick up the key.
At the southwestern corner of the map is a Lever. Use it. This lowers the bridge.
Run across and wait for the 4 spouts surrounding the key to turn off. Grab it.
Run to level 2.
Sometimes the north bridge (as show on the map) wont go down and you will have to go to the one next to it.
Level 2
Avoid incubus by following the map.
At the southern corner of the map is the boss Grelk Iceslash. Whirl him to death. Pick up the key
Run to Level 3.
Level 3
If you are running people, have them run with you and die by the next rez shrine(if they make it).
Die and collect cash.
Run into Havok's room and aggro all bloodcurlers. Run to a corner breaking with as many things as possible but dont loose aggro of the bloodcurlers.
Die. If done correctly, all bloodcurlers should be far away from the others.
Pop Pcons and kill Havok.
Counters
Being bad around vaettirs.
Accidentally agroing an Incubus.
Community content is available under
CC-BY-NC-SA 2.5
unless otherwise noted.