-Welcome to Samurai's userpage!-
I've been called by some a master strategist in PvE gameplay, and by others a formidable opponent in PvP. I fight mainly as an Assassin, but I know much of the other professions as well. I've beaten every mission of every campaign, and I've got masters on most of them. If you ever need a bit of help, feel free to send me a PM.
The good side of being a sin: Sins are total unrelenting pwnmonsters.
The bad side of being a sin: No one else thinks so...

...That is until the group that rejected you from a mission party meets up with you in the next area...

...a full twenty minutes after you finished it.
My Characters
Behold the characters of my account, the avatars which represent my skills in Guild Wars. Each character has his own accomplishments and goals, and titles and equipment are also listed. Each box also shows the preferred builds that I use. Boxes inspired by Kaya, thanks!
---
-PvE

Smurai JM
Background:
My first and most used character in Guild Wars. He began in Factions and has since finished all three campaigns. I go everywhere with this guy, Fissure, Underworld, Anguish, Sorrows, everywhere. I've been testing loads of builds on him, as well as farming various areas.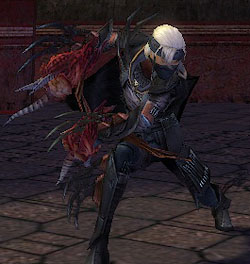 Accomplishments:
Beat Factions, Nightfall, and Prophecies.
Henched all of Sorrows Furnace
Titles:
Protector of Elona and Cantha.
Spearmarshal
Vanquishing Lightbringer
Goals:
GM Cartographer of Elona
GM Cartographer of Cantha.
Protector + Cartographer of Tyria.
The Titan Quests
Equipment:
Full Ancient Armor dyed Red/Purple/Green/Orange to match the red parts of the arms.
Zealous Spiked Daggers of Fortitude: +15% vs Hex. Great in Assassin's Promise builds.
Zealous Jeweled Daggers of Enchanting: +15% while Enchanted. My critical tank daggers.
Stygian Daggers: Shiny new skin, although I don't like the vampiric mod too much.
Chkkr's Flatbow: Probably the best bow for Critical Barraging, which is great for not dying!
Current Builds:
<pvxbig> [Assassin's Promise][Dark Prison][Tiger Stance][Black Lotus Strike][Twisting Fangs][Black Spider Strike][Blades of Steel][Feigned Neutrality] </pvxbig>
Critical Farmer
<pvxbig> [Critical Defenses][Unsuspecting Strike][Wild Strike][Critical Strike][Moebius Strike][Death Blossom][Dark Escape][Shadow Refuge] </pvxbig>

Tha Sniper
Background:
My second and most versatile character. He began in Elona recently, and has now completed Factions and Nightfall. He can usually be found solo-trapping the Stygian Veil or in the Underworld with some friends.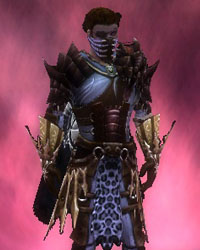 Accomplishments:
Beat Factions and Nightfall.
Beat Abaddon with heroes in just over 4 minutes.
Soloed first areas of Stygian Veil for loads of good items.
NEARLY beat entire Veil in a great trapper team.
Titles:
Mighty Lightbringer(Stygian Soloing is ALOT of LB points!)
Goals:
Beating Prophecies.
Gaining some more nice titles to show off.
Conquering Mallyx the Unyielding and the Domain of Anguish.
Equipment:
Primeval Body and Mask, both dyed white.
15k Elite Sunspear Legs, Hands, and Feet, all dyed white.
Full Istani for trapping. Dyed Silver in the middle and Red on the outer parts.
Chkkr's Flatbow. Great to have a zealous bow for splinter barraging energy upkeep.
Ironwing Flatbow. Used mainly as a damage boost for nightmare weapon spikes.
Stygian Recurve Bow. My most used bow overall, great for boom headshots and overall ranging!
Forgotten Staff. Used to trap, mainly while soloing the Stygian Veil for free stuff!
Current Builds:
Burning Sniper
<pvxbig> [Apply Poison][Burning Arrow][Savage Shot][Serpent's Quickness][Natural Stride][Favorable Winds][Troll Unguent][Resurrection Signet] </pvxbig>
<pvxbig> [Arcane Echo][Echo][Dust Trap][Barbed Trap][Tripwire][Serpent's Quickness][Energizing Wind][Quickening Zephyr] </pvxbig>
<pvxbig> [Splinter Weapon][Barrage][Nightmare Weapon][Dual Shot][Distracting Shot][Favorable Winds][Troll Unguent][Resurrection Signet] </pvxbig>

Hitorii Hanzo
Background:
Hitorii started out in Tyria and has progressed at a steady pace. I use him mainly as a Triple Axe warrior to take out mobs quickly, while supporting the team with "Watch Yourself!". Eventually I will take him up to the Domain of Anguish in Elona as an Obsidian Flesh tank.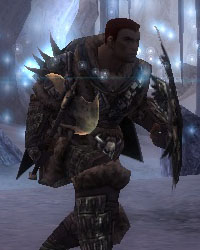 Accomplishments:
Recently reached the Ring of Fire mission, nearly done with Prophecies.
Titles:
None yet.
Goals:
Beating all of the campaigns.
Getting to DoA to test out the OF Tank build.
Earning some titles and gaining new skills.
Equipment:
Full 1.5k Ascalon armor dyed grey. I'm so creative.
Sundering Adamantine Falchion of Fortitude: Cool skin and powerful as well.
Tanzit's Cleaver: I wish it was zealous, but until I get a new one this is great for Triple Axing.
Sundering Twin Hammer of Fortitude: A perfect hammer, too bad I have no hammer skills...
Current Builds:
<pvxbig> [Triple Chop][Cyclone Axe][Dismember][Executioner's Strike]["Watch Yourself!"][Vigorous Spirit][Balthazar's Spirit][Resurrection Signet] </pvxbig>
Enduring Assaulter
<pvxbig> [Warrior's Endurance][Power Attack][Sever Artery][Gash][Final Thrust]["Watch Yourself!"][Healing Signet][Resurrection Signet] </pvxbig>

Pwnage was Samurai
Background:
After starting in Cantha, Pwnage worked on his survivor title, and got it! He is currently waiting at Tahnakkai Temple with his title. He would've gone much farther with it, but those PUGs had to ruin it... At least he still has the quest for 15k Kurzick to complete.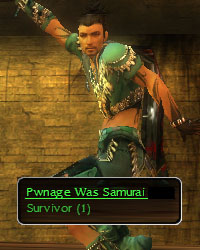 Accomplishments:
20 Levels with 0 deaths.
Titles:
Survivor.
Goals:
Getting Legendary Survivor. Dang PUGs!
Beating all of the campaigns.
Earning some titles and gaining new skills.
Getting ownage 15k Kurzick armor.
Equipment:
Full 1.5k Seitung Armor dyed Blue/Green.
The Spiritspeaker Channeling Wand.
The Pain Eater Channelling Offhand.
Current Builds:
Healing Channeler
<pvxbig> [Mend Body and Soul][Spirit Light][Generous Was Tsungrai][Bloodsong][Essence Strike][Spirit Burn][Spirit Rift][Flesh of My Flesh] </pvxbig>

Bane of the Dawn
Background:
New PvE character, he will eventually be a minion master, maybe a farmer of some sorta. I'm not really sure what to do with him yet, but I do know that he will be a powerful necromancer someday. He is still in Pre-Searing until I find time to work on him for now. I figured out that I'm going to get the -55 cesta on him to give to my monk, then this guy will become... AN ELEMENTALIST!!! Necros just aren't my profession.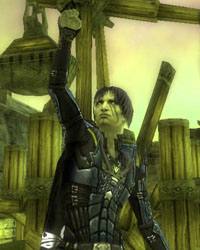 Accomplishments:
None.
Titles:
None yet.
Goals:
Getting out of Pre-searing.
Getting some skills.
Doing other stuff.
Equipment:
Full 1.5k Bonelace Armor dyed silver.
Future Builds:
<pvxbig> [Animate Bone Horror][Animate Bone Fiend][Animate Shambling Horror][Virulence][Epidemic][Signet of Lost Souls][Blood of the Master][Leech Signet] </pvxbig>
Brickz in the Wall
Background: Got a gladiator point nearly every time I used him in PvP, but now hes coming to the roleplaying game to get me some free st00f! I've always wanted to do 55 farming, and I could really use some gold right about now with all these new characters I'm making!
Accomplishments:
He has a cool name.
Titles:
None yet.
Goals:
Growing into a mighty farmer.
Equipment:
Full 1.5k Monk Armor. Not sure what kind.
Future Builds:
<pvxbig> [Shield of Regeneration][Shield of Absorption][Reversal of Fortune][Dismiss Condition][Gift of Health][Protective Spirit][Glyph of Lesser Energy][Blessed Aura] </pvxbig>
---
-PvP

Konrad Burnslapps

Assassin Build Tester
Background:
My first PvP character, and frequently used Assassin build tester. He is named after a friend's funny German name at school. He proudly wears the colors of the assassin, red and purple, as he marches across your dead corpse in the random arenas. GG.
Accomplishments:
Tested nearly every assassin build placed on the wiki since I started playing.
Unlocked every assassin skill, as well as many other profession elite skills.
Got 15 winning streaks in random and team arenas towards the Gladiator title.
Pwned In Teh Face

Lord of Player vs. Player Combat
Background:
My all around PvP character who pwns people in teh face. Literally. He will come right up to you and pwn you straight in the eye.
Accomplishments:
He pwned alot of people in teh face over the last several months.
He earned many gladiator points and unlocked many skills.
He once... actually many times, said, l0l u got pwned in teh face!
My Heros
These are the little guys and girls that got me through most of the game when no pugs would dare allow a sin to help out.
Zhed Shadowhoof and Acolyte Souske - The B00Mstick Brothers. (even though they are completely different species)
The limitless energy and amazing interupts provided by these two are only the start of the chaos they cause. With Searing Flames and Meteor Shower, they devastate any and all enemies in their path. You've never seen a room of level 28s clear out faster than with these guys behind you. Zhed usually carries a disabled Rebirth just in case.
Olias - Overlord of Undead and Spreader of Plagues.
Inspired by the 'Olias goes to Hell' post on GWG. He quickly maxes out his army of horrors and then procedes to decimate the enemy with conditions. He is by far the best body blocker I've seen, so my nukers can hammer away while he leads his minions and spreads his deadly conditions.
Dunkoro - God of Protection and Keeper of our Lives.
The best Monk bar I've seen on a hero, he always upkeeps his energy with GoLE and keeps us alive with the rest of his skillbar. I never see a hex on myself for more than the 1/4 second it takes to cast Reverse Hex, and I rarely have to self heal. He is the main reason I've been able to hench as much as I have!
The Henchies - Filling in the gaps and supporting the big guys.
The henchmen I use vary depending on area and campaign, but they usually follow this pattern:

Two Heal/Prot Monk Henchmen - The backbone of the team, without these guys/girls I wouldn't be going anywhere fast.
One Support Caster - Ranging anywhere from interupters to motivators, this is what buffs the team and nerfs the bad guys.
One Random Person - Everybody needs to feel special sometimes right?
Anyway, that is my normal party setup for when I go adventuring in the world of Guild Wars. I have currently been able to hench areas such as Sorrow's Furnace, Glint's Lair, the Eternal Grove, Unwaking Waters, Raisu Palace, the Gate of Madness, even Abaddon and Shiro themselves fall prey to these almighty NPCs. All of the above were completed with Masters, and two protector titles are currently held as awards for this.
My Builds
For farming bosses that deal physical damage, or just general PvE gaming, check out:
A/any Chkkr Farmer - Favored - The farming build capable of soloing Shiro Tagachi himself. Heres the Video.
Not only does this easily defeat any physical boss(melee or ranger), it works to great effect in general PvE.

This build page also contains a full tutorial on how to farm each of the 4 "Chkkr" bosses.

A powerful team spike build with many variants for nearly any situation:
R/Rt Armed Assault - Favored - A very versatile ranger that uses Ritualist Weapons to allow more strategic builds.
This build works nearly anywhere, and the splinter variant is amazing in PvE or Fort Aspenwood.

The elite skill of this build is variable, thus making many different styles of play available.

A PvE take on the old SPBoA build, this is a quick and powerful mob killer and loads of fun.
A/R Relentless Spiker - Favored - Using a new idea of Lightning Reflexes combined with Assassin's Promise and spikes.
Think the basic BoA assassin, now add 20 of them and put them 1 on 1 with every monster in an area. Then you get this build.

This build owns. Why? Because I say so. Why should you believe me? Because I own. Why do I own? Because I use this build.

A great farming build that I believe surpasses the D/A InvinciBomb:.
D/A Shadowstorm Tank - Unfavored - Uses Shadow form and healing Enchantments to achieve full health after SF ends, as well as powerful scythe attacks to kill bosses.
This build can easily kill many bosses in PvE, as well as people in PvE, as long as there is no enchantment removal.

This build is one of the few that can fully negate the damage of Shadow Form while still maintaining damage.
A page linking to whatever I feel like needed linking to. Contains all the base codes for my userpage as well as some other interesting links. Check it out if you want.
My Userboxes
| | |
| --- | --- |
| | This user plays for the territory of North America. |