User:Sardaukar Blackfang
I am the leader of the "Kataklysmic Decapitation [Kvlt]" Guild. I started playing Guild Wars around two months after Prophecies came out.
Kataklysmic Decapitation [Kvlt]
This is my small, but growing guild. Flauros Dagon, Death Trivium, and I all live in Meadville, Pennsylvania. We are looking for more Kvlt members. Although everyone but emos are allowed, metalheads are preferred!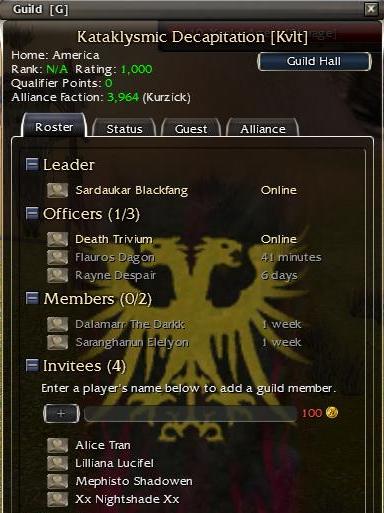 Characters
N/Mo Sardaukar Blackfang
Rt/Mo Lol U Got Teabagged
R/W Spheres Ov Madness
E/x Angel Of Daath
A/x H Y P O C R I S Y
R/x B E H E M O T H ftw
D/Mo Visceral Scythe
W/x My Dixie Wrecked
Goals
Reach 7.5 million experience (6,021,648 xp so far)
Reach 750,000 gold (530,543 gold so far)
Cap every elite in the game (286/351 capped so far)
Get the first level of drunkard
Completed Goals
Reach 100,000 gold
Reach 250,000 gold
Reach 500,000 gold
Reach 1 million experience
Reach 2.5 million experience
Reach 5 million experience
Name origins
"Sardaukar" is from the Dune series. They are vile warriors from House Corrino.
"Lol U Got Teabagged" was named after ruthlessly teabagging my friend in Halo the day before. His Guild Wars character is named "Flauros Dagon." (which are each metal bands...and of course...names of demons and such <3)
"Spheres Ov Madness" is named after the song by Decapitated.
"Angel Of Daath" is a reference to Slayer's song Angel of Death, also "Daath" is a Death metal band from Atlanta, Georgia.
"H Y P O C R I S Y" is named after a badass speed/death metal band.
"B E H E M O T H ftw" is named after a Kvlt death metal band.
"My Dixie Wrecked" is funny when you figure it out =P.
Titles
This information was last updated October 19th, 2007
Userboxes
Random Funny Videos
For my reference and your enjoyment if you watch them =P.
http://www.youtube.com/watch?v=bs-Q1-ylGgg Cast Down the Heretic - Nile parody of lyrics
Community content is available under
CC-BY-NC-SA 2.5
unless otherwise noted.