sry about all that crap with your build, didnt know you didn't want it on wiki --—Daɽkɘʃʂ ӍcÇɧɽiʂtmaʂmonǥɘɼ

. 15:07, 15 December 2008 (EST)
How can you be ninefingers if you lost a hand?--

ChristmasRelyk 11:51, 17 December 2008 (EST)
That punch better had been well worth it ;p Brandnew. 12:09, 17 December 2008 (EST)
---
Signature Test...........--Α--йĨйƏҒỉйGƏЯş--Ω 17:45, 17 December 2008 (EST)
Α--йĨйƏҒỉйGƏЯş--Ω Rawrawr Dinosaur 18:02, 17 December 2008 (EST)
You
Are one of the most badass users ive ever seen, judging from this talk page. -- Jebuscontests 18:07, 17 December 2008 (EST)
Bullshit Buff
This Mark of Insecurity buff is completely ridiculous. 90% faster expiration of stances and enchants is total fugging bullshit. Even with hex removal, 5e and a 10 sec CD (6.6 sec CD with Deadly Paradox) makes it completely spammable. One A/R with NR, MoI, and a cover hex could completely shut down every Dervish, Prot Monk, or Stance Monk in the game. Its worse than WoD wth no sacc.--Α--йĨйƏҒỉйGƏЯş--Ω 11:01, 18 December 2008 (EST)
Ye, 90% is way too fucking much. ɟoʇuɐʌʎʞɔıɹ

11:59, 18 December 2008 (EST)
woah!
the N's with the ~ s over tehm in ur sig, come out as U's with ~'s over them O_o --—Daɽkɘʃʂ ӍcÇɧɽiʂtmaʂmonǥɘɼ

. 14:29, 18 December 2008 (EST)
Please
post a picture of your hand. It sounds pretty fucking badass.

14:32, 18 December 2008
Pics As Requested
Link to my photobucket folder----------> [1]--Α--йĨйƏҒỉйGƏЯş--Ω 20:17, 18 December 2008 (EST)
Ups
Found ur myspace page [2]--

ChristmasRelyk 03:01, 19 December 2008 (EST)
Lol pvp scrubs right there--

ChristmasRelyk 19:08, 20 December 2008 (EST)
<pvxbig> [build prof=Warrior/Any Tactics=12+1 Strength=12+1][Frenzy][Frenzy][Frenzy] [Frenzy][Healing Signet][Healing Signet][Healing Signet][Healing Signet][/build] </pvxbig>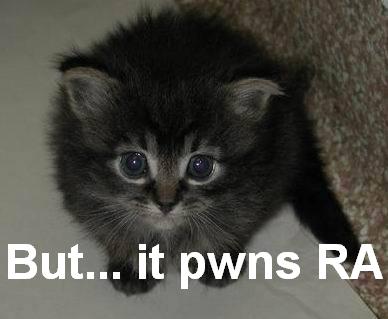 Brandnew. 11:36, 21 December 2008 (EST)
4.5 Fingers
My best attempt to use some of the ideas of your healer and make it into a sub-par flagger. Originially i was gonna use burning speed for the vroom, but I had no cond or hex removal so i said fuck it. My one dissapoint is the lack of food for mystic regneration.
<pvxbig> [build prof=D/Mo name="4.5 Fingers" pro=9 earthp=9 mys=12][Signet of Pious Light][Imbue Health][Life Sheath][Reverse Hex][Mystic Regeneration][Vital Boon][Pious Haste][Pious Concentration][/build] </pvxbig>
—
Cheese Slaya (Talk) 01:18, 22 December 2008 (EST)
Merry Christmas
Hope all of you have a happy holiday. I'm off work for 2 weeks over the X-mas season, so I'll probably be on Guild Wars quite a bit. My wife got me the new Razer Lycosa keyboard for X-mas. She snatched it up and wrapped it before I even got a chance to do a functional test on the damn thing (which pisses me off to no end). I plan to make sure I have it broke in before I have to go back to work. If you run into me in RA, let me know who you are on wiki, so I'll know who's responsible for whippin my ass. (And if you run into Hoochies Mamma, let her know how cruel it is to dangle a Razer under a gamer's nose for 2 weeks before he can use it.)--Α--йĨйƏҒỉйGƏЯş--Ω 10:56, 23 December 2008 (EST)
"So, I heard you're married."
"Yeah, just got off my honeymoon"
"Can I see the ring?"
"Sure thing."
"Hey! Fuck you too!"
--

Guild of Deals 10:27, 24 December 2008 (EST)
Happy New Year
Hope everyone's holiday went well. Had family in town, so I didn't get as much oppertunity to play as I wanted, and had mixed results when I did. I logged about 60 Glad points over 4 afternoons, and only 10 over the next 2 days. I'm not sure yet, but I think there may be a relationship between my win percentage and the volume of alcohol I've consumed. I plan on launching a research project very soon to try and get to the bottom of this mystery. I do know that it seems much harder to keep the red bars propped up when they keep swimming around on the screen.--Α--йĨйƏҒỉйGƏЯş--Ω 15:27, 5 January 2009 (EST)
I believe you may have discovered the point of PvXwiki
I find discussions with them interesting, especially when I get bored at work. --Α--йĨйƏҒỉйGƏЯş--Ω 12:07, 23 December 2008 (EST)
Congratulations. - Misery Is Friendly

04:56, 6 January 2009 (EST)
EDIT CONFLICT AHHH—
Cheese Slaya (Talk) 17:16, 8 January 2009 (EST)
Den yes, im an HA ho.—
Cheese Slaya (Talk) 17:32, 8 January 2009 (EST)
I lived in Hanau, Germany from 1986 to 1988. I used to speak passible German. All I remember how to say is:
1) Where is the train station?
2) One beer, please.
3) I love your big tits, but you shoes are ugly.
4) Your mother fucks horses for money.
I figure one of those four phrases would cover just about any situation.--Α--йĨйƏҒỉйGƏЯş--Ω 14:04, 9 January 2009 (EST)
GOD, I hate bonus weekend in Arenas
It is complete torture every time they do it. Every PvE scrub with an account floods into Arenas with their farming builds and a bag full of dumbass. They would have to make it quadruple rewards to make a weekend of PvPing with 6 districts full of chest runners and charr farmers bearable.--Α--йĨйƏҒỉйGƏЯş--Ω 00:37, 10 January 2009 (EST)
Double Rewards Results?
Kind of curious about how many Glad points people were able to farm this weekend. I didn't do worth a shit. I got about ½ as many as usual with double rewards. When I was running my healer, it seemed I couldn't get a team without a POS PvE monk. They were everywhere in Arenas this weekend and 95% of them didn't do anything but cut damage output by 33% and suck up all my heals trying to keep them alive. I finally got to the point where I just let monks die and try and do it 3v4. (Why does it seem like when you are running a healer, you can't get a team without another healer, and as soon as you go damage, you can't get a team with a healer?) I had a lot better luck running my Glass Arrows/Conjure /Point Blank/Zojun Shot damage Ranger, but a friend of mine gave me a new Bone Dragon staff and I went back to my healer just to try it out.--Α--йĨйƏҒỉйGƏЯş--Ω 10:21, 12 January 2009 (EST)
Recording Software
Does anyone know of any game recording software that causes minimal lag? I have used GameCam, which causes big lag. I'm currently using Fraps, which is better, but its still pretty laggy. Just wondering if there is anything decent out there that I haven't heard of.--Α--йĨйƏҒỉйGƏЯş--Ω 14:43, 14 January 2009 (EST)
check it out, a great-vetted derv healer build

PWNAGEMUFFIN crabs 23:15, 27 January 2009 (EST)
Think about that for a minute. I don't care what skills you have in your bar, how are you going to keep anyone functional, remove any hex/cond, or win the game if your friggin' dead? Those numbers seemed a little high. VoR tops out at 95. With 13 earth, SoPL heals 108 all day long. I'll tell a warrior with Empathy and VoR on him to fight thru it, no problem. After 1k hours of running a derv healer, I can ensure you hex/cond removal isn't that big of a deal in RA and it definately isn't worth the trade off.--Α--йĨйƏҒỉйGƏЯş--Ω 11:46, 28 January 2009 (EST)
Tweaking Controls
In case anyone is interested, I've been messing around with tweaking controls to be more efficient in ways Guild Wars Options doesn't cover. This is an AutoHotKey script to change your mouse controls so you still roll your mouse wheel to zoom camera, but you press the wheel button to pan the camera and it changes right click to 'Cancel Action'. Its so fast, you can cancel 1/4 sec cast skills. If you see a warrior go up for a Hammer Bash, its pretty easy to cancel your skill before it hits. The last two lines are examples of using Alt+key to send pre-typed messages to Team Chat.
#NoEnv
SetTitleMatchMode, 1
#SingleInstance Force
#IfWinActive Guild Wars
MButton::RButton
RButton::Escape
Pause::Pause
!1:: Sendraw #Try and stay together please!
!2:: Sendraw #Don't run away from me when you are taking pressure!
The script is only active when Guild Wars is the active window and the Pause button is a toggle that pauses the script. Maybe someone will find this usefull.--Α--йĨйƏҒỉйGƏЯş--Ω 16:42, 28 January 2009 (EST)
Hotel California
Well, I guess I'm heading back into Guild Wars for awhile longer. I tried to retire from the damn game and have mostly been playing Left 4 Dead, but the wife is putting the screws to me to get back into Arenas. She won't let me retire until I get us to Glad 7. We are currently sitting at 2,850 .... so I guess you guys will have to put up with me for a couple more weeks.--Α--йĨйƏҒỉйGƏЯş--Ω 19:47, 10 March 2009 (UTC)
I'm Ninefingers on Steam and L4D. I usually play on a friends private server if I'm playing Expert mode. Other than that, I play F7Lans servers. I stick with those servers, because they are ranked. I got myself worked up to #74 of 34,000, now they are going to reset the damn stats next week.--Α--йĨйƏҒỉйGƏЯş--Ω 20:25, 10 March 2009 (UTC)
A LITTLE OFFBEAT TRIVIA - THE POWER OF 2
My gaming rig is starting to get a little dated, I built it about 4 years ago, so I've put back about $4k and I've been doing some research on the latest technology to put together my new 'dream rig'. I continue to be amazed by the quantum leaps in high end circuitry. Looking into it, I read some estimates that within the next decade, the general public will be able to buy computers that equal the performance of the human brain. Scientific estimates convert the average human brain to circuit performance as a 168,000MHZ processor, 100,000,000MB of RAM, and video resolution of 100,000,000 pixels concentrated on a 1CM square monitor (your retina) times 2 (SLI). It kind of takes a lot of the fun out of shopping for a 'dream rig', knowing that in 10 years, that will be the current standard. Those numbers are kind of misleading, though. The electronic circuit will never truly match the brain until they figure out how to incorporate a '2' into machine code, and develop true AI. 0=NO, 1=Yes, 2=Maybe.--Α--йĨйƏҒỉйGƏЯş--Ω 15:52, 12 March 2009 (UTC)
Community content is available under
CC-BY-NC-SA 2.5
unless otherwise noted.