dude!
I have a screenie somewhere of you earning me 2 glad points with your derv healer. I didn't even know you were on PvX. HI! ~ Big

sysop 17:21, 12 March 2009 (UTC)
I don't know how 'on PvX' I am. All my builds get tanked off here, so I don't do much except bullshit with these low-lifes when I should be working. Its actually pretty good therapy. When life starts dragging on, a little online banter with some of these jokers reminds you that shit could be a lot worse. ;) --Α--йĨйƏҒỉйGƏЯş--Ω 13:48, 17 March 2009 (UTC)
im a lowlife Rawrawr Dinosaur 16:03, 17 March 2009 (UTC)
Easy Glad Points
My new tactic for farming Glads in Arenas .... The resign spike ....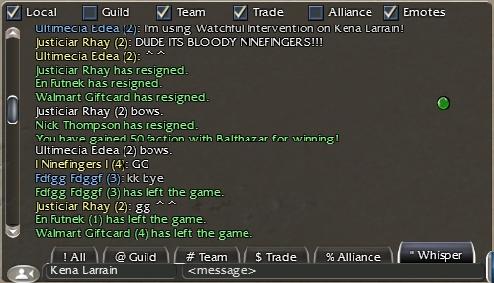 Time to Retire the D/Me
Well, I made my Glad 7 last night. I think its time to retire the derv healer and start working on something I'm a little less tired of.--Α--йĨйƏҒỉйGƏЯş--Ω 13:41, 16 April 2009 (UTC)
I challenge you to make a Death Knight that works.----The Liger talk 08:50, 2 April 2009 (UTC) 13:48, 16 April 2009 (UTC)

Actually, I don't have any idea what a death knight would be.--Α--йĨйƏҒỉйGƏЯş--Ω 17:48, 16 April 2009 (UTC)
A Six-Pack of Bullshit
How is it that a Bullshit PvE flunkie game like WoW gets a signature 'Game Fuel' Mountain Dew? I would be more inclined to give WoW a signature Tampax. Anyone on here work for Anheuser-Busch? Someone needs to make a Guild Wars signature beer spiked with a shit load of caffeine. Call it PvPilsner or some shit.--Α--йĨйƏҒỉйGƏЯş--Ω 14:33, 3 June 2009 (UTC)
appealing to wow is a smarter marketing decision, this is all that matters. --Mafaraxas 15:10, 3 June 2009 (UTC)
Whatsup nine fingers. Ive met you in ra quite a few times. 20:18, 12 June 2009 (UTC)

Well, I hope I didn't humiliate myself too bad. ;)--Α--йĨйƏҒỉйGƏЯş--Ω 22:07, 12 June 2009 (UTC)
sucksucksucksuck be my friend now? --Mafaraxas 18:09, 13 June 2009 (UTC)
Okay, now that was random....--Α--йĨйƏҒỉйGƏЯş--Ω 15:26, 15 June 2009 (UTC)
AKKKKK, BANNED
Ol' Nine took a 3-day ban for having a character with the word condom in the name. I guess a person needs to be careful who he rolls in RA. The word condom may turn pornographic all the sudden.--Α--йĨйƏҒỉйGƏЯş--Ω 14:52, 20 July 2009 (UTC)
Dervish Healer Buff
The Ninefingers Dervish healer took a pretty serious buff yesterday. Armor of Sanctity now causes weakness to all adjacent foes. Perma-weakness spam. It is now almost invincible to melee and you can give weakness to non-attack skill using characters like Eles and reduce their damage to you. Also, there is no more need to use Shield of Force to pass weakness. You can swap it out for Fleeting Stability. IMO, Armor of Sanctity is way overpowered now, and I can't imagine this buff will last long. It puts your survivability thru the roof at no energy cost with the Mysticism bonus and with a 5CD on AOE weakness, its hard as hell to keep cleaned up. I ran it last night and it was 10 run after 10 run after I stopped dicking around with testing mods.--Α--йĨйƏҒỉйGƏЯş--Ω 14:02, 7 August 2009 (UTC)
armor of sanctity makes melee pointless. vow of piety a good idea or pious concentration still pro?--Relyk 15:25, 16 August 2009 (UTC)

I've never used Vow of Piety. Pious Concentration is like my American Express card. Never leave home without it.--Α--йĨйƏҒỉйGƏЯş--Ω 16:40, 17 August 2009 (UTC)

Pious Concentration is a great skill, but since almost all your spells are under a second cast, +24 armor from something like Vow of Piety or Conviction wouldn't be terrible. ···  18:31, 20 August 2009 (UTC)

Yea then Sig of Pious Light gets interrupted and your left shitting bricks --Frosty Mc Admin 18:34, 20 August 2009 (UTC)

ECHO IMBUUUUEEEEEEE. ;o ···  18:36, 20 August 2009 (UTC)

Dshot sig and yur dead, Armor of Sanctity buff is more than enough defense --Frosty Mc Admin 18:41, 20 August 2009 (UTC)

But 102 AL healer is so sensual. :< ···  18:45, 20 August 2009 (UTC)

I'm kind of neurotic about not getting interrupted and I would feel completely nekkid without PC. Besides, its just friggin sexy to roll SoPL while the rupts just bounce off. Anyway, the AoS uber-buff turns the D/Me into a pretty serious tanker the way it is.